Embassy of the Republic of Mauritius in China Keep Good Relationship and Communication with The IFWL,CAWD
Recommended by Department of ***Affairs of the Ministry of Commerce, People's Republic of China,  Embassy  of  the  Republic of Mauritius keep good relationship and communication with The International  Federation of Warehousing and Logistics, China Association of Warehousing and Distribution . They visit our office with the topic of mutual development on overseas hub and logistics.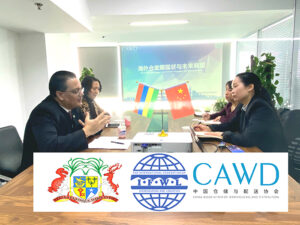 They had a pleasure talk and this is a very good start.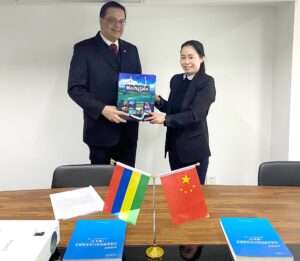 Wish we can explore more opportunities to cooperate with each other for a bright future.
Background Information:
In October, 2019, China and Mauritius officially signed the Free Trade Agreement between the People's Republic of China and the Republic of Mauritius. The two sides have respectively completed the procedures for its entry into force. The Agreement officially became effective on January 1, 2021.This is China's first FTA with an African country. Its entry into force will further enhance China-Mauritius mutually beneficial cooperation level, promote China-Africa cooperation, and contribute to a closer China-Africa community of shared future.